The Comarca Lagunera Medical Travel Network Options in The Travel For Care Network
The Comarca Lagunera Advantage
Located between the states of Coahuila and Durango, the Comarca Lagunera commonly known as La Laguna, is the 9th largest metropolitan area in Mexico. Formed mainly by the cities Torreon, Gomez Palacio, and Lerdo it is one of the fastest growing economies in the country. The region is known for having leading national companies in milk production, assembly lines, the industrial sector and more. Even the largest silver refinery in the world is located in La Laguna! The city is also known for its tourism filled with excellent museums, historic plazas, delicious restaurants, fun soccer matches, various parks, malls, and more. Its most important landmark is the Cristo de las Noas, the third largest statue of Christ in Latin America right after the ones in Rio de Janeiro and Bolivia. Surrounded by desert, mountains, canyons, and dams the area is perfect for outdoor sports such as mountain biking, water sports, and even riding four wheelers in the dunes of the famous Dunas de Bilbao. Due to its location in northern Mexico and the Francisco Sarabia International Airport, the region is very easy to travel to either by plane or driving, making it very easy for patients to access excellent and affordable medical care.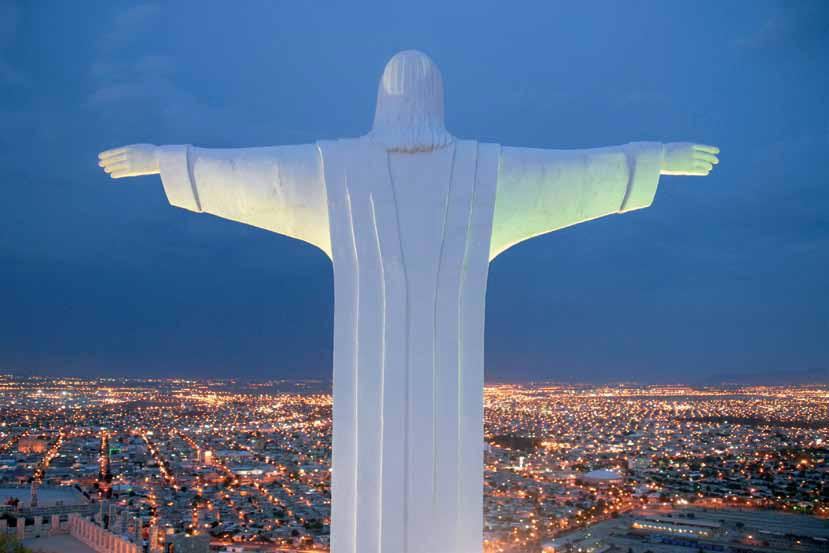 The Hospital
Founded in 1989, Sanatorio San Jose is a life project born under the entrepreneur Dr. Santiago Avalos Rodriguez, a native of Gomez Palacio, Durango who wanted to give his hometown a private hospital service unique to the region.
With over 25 years of experience, Sanatorio San Jose ranks as the best option for private health services in the city of Gomez Palacio Durango. This forward-looking hospital offers exceptional services to monitor, restore, and strengthen health. Administrative personnel as well as medical staff and associated specialists safeguard the health of patients and personalize the experience to make you feel at home.
Sanatorio San José has more than 50 specialists and offers full hospitalization services, ER, cardiology, surgery, highly specialized surgery, diagnostics, radiology and imaging, laboratory and pathology, intensive care unit, pharmacy, ambulance, and more. With its modern facilities, 30 beds, newly remodeled rooms, expanding scope of services and more, the hospital continues to excel patients' expectations.
Sanatorio San Jose is the perfect choice for healthcare, not only for its experience and affordable costs, but for its excellent quality and welcoming human environment.
Lead Plastic Surgeon, Dr. Salomon Fiszman Stein
EDUCATIONAL BACKGROUND
-Medical School:  Universidad Nacional  Autónoma de México
-Internship: IMSS Tijuana B.C.N 1979
-Social Service: Servicios Médicos del D.D.F 1980
-Specialization: Plastic and Reconstructive Surgery 1980 - 1985
-Residency Rotations: IMSS, CMN  1980-1981
-General Surgery: IMSS, CM Raza 1981- 1982
-Plastic and Reconstructive Surgery SMDDF 1982-1985
Universidad Nacional  Autónoma de México
EXPERIENCE
-Over 31 years of experience in Plastic and Reconstructive Surgery IMSS Gomez Palacio, Durango
-Member of Asociación Mexicana de Cirujanos Plásticos 1985
-Member of Lipoplasty Society of North America Inc.
-Award by Durango Governor Ismael Hernández Deras 2009 "To the trajectory and vocation of service in benefit of humanity"
-Professional publications in the XVI Congreso Nacional de la Asociación Mexicana de cirujanos Plásticos UNAM, and Primer Congreso Nal. De Quemaduras de ls Universidad del Noreste en Tampico
ADDITIONAL ACTIVITIES
-Associate professor of Plastic and Reconstructive Surgery in Universidad Nacional Autonoma de Mexico 1985-1987
-Anatomy and Physiology professor at Instituto Nacional de Bellas Artes for the Compañía Nacional de Danza Clásica 1987-1989
-Anatomy and Physiology professor at Universidad Ibero Americana. Plantel laguna for Nursing School 1990-1994
-Guest Professor of Primer Congreso Nacional de Quemaduras de la Universidad del Noreste en  Tampico, Tamaulipas.
-Guest Professor Curso de Actualización sobre  Manejo del Paciente Quemado Hospital 20 de Noviembre del ISSSTE
-Guest Professor Curso InterHospitalario en el Tratamiento del paciente Quemado de la D.G.S.M.DDF
-Guest Professor Seminario sobre Lesiones de Tejidos Blandos, HG y de Urgencias Médicas "XOCO"
-Associate professor of sexual education in:
Escuela de Medicina de Tijuana 1978
Escuela Nacional De Estudios Profesionales IZTACALA UNAM 1979
Centro de Orientación para Adolescentes "CORA" 1979
Lead Bariatric Surgeon, Dr. Salvador Flores Castro
EDUCATIONAL BACKGROUND
-Medical School: General Surgery 1995-2000
Facultad de Medicina Universidad Autonoma de Coahuila Unidad Torreón.
-Social Service for General Surgery 2007
HRO 14 Instituto Mexicano del Seguro Social Matehuala San Luis Potosi
-Specialization: General Surgery 2004-2008
Unidad Médica de Alta Especialidad Insituto Mexicano del Seguro Social 25
Facultad de Medicina Universidad de Monterrey.
-Specialization: Endoscopic Surgery and Bariatric Surgery
The American British Cowdray Medical Center
Facultad de Medicina Universidad Nacional Autonoma de Mexico
-Certificate by Consejo Mexicano de Cirugía General, A. C. 2009 – 2014
ADDITIONAL COURSES
-Updates in Mechanical Ventilation 1995
-Program "Leaders of Today" Rotary Youth Leadership Awards. 1998
-Updates in Continuous Medical Education 2003
-General Surgery Refresher Course 2006
Live broadcast Toronto, Canada
-II Academic session of the Mexican Association of Endoscopic Surgery "Gynecological Emergencies and their Laparoscopic Treatment" 2008
Basic and Advanced CPR ACLS. 2008
American Heart Association.
The American British Cowdray Medical Center.
-V Academic session of the Mexican Association of Endoscopic Surgery "Laparoscopic Bariatric Surgery" 2008
-Advanced Course in Vital Trauma Support ATLS 2008
American College of Surgeons
The American British Cowdray Medical Center
EXPERIENCE
-Surgeon in the American British Cowdray Hospital, Mexico City 2008-2009
-Surgeon in Instituto Mexicano del Seguro Social 2009-present
-Minimaly invasive surgeon, bariatric surgeon 
Sanatorio San Jose Gomez Palacio, Durango 2009-present
Hospital Sanatorio Espanol Torreon Coahuila 2010-present
-Director of minimally invasive and obesity surgery 
Diabetes and Obesity Clinic Torreon Coahuila, Mexico 2010-present
Integral Obesity Care Torreon Coahuila, Mexico 2010-present
-Only certified surgeon in La Laguna region to perform obesity surgery by the Mexican College of Obesity Surgery and Metabolic Diseases, the Mexican Council for General Obesity Surgey, and Corporacon Nacional Autonoma de Certificacion de Especialidades Medicas (CONACEM)-Active member of Asociación Mexicana de Cirugía Endoscópica A. C. 2012
ADDITIONAL ACTIVITIES
-XXI National Conference of Human Genetics Mexico 1996
-First Latin American Conference of Bioethics and Human Genome
-National Conference of Critical Care Medicine and Intensive Care 1996
-North Regional Meeting of Gastroenterology 1999
-International Congress of Medicine "The Syndromes of Gastroenterology and Surgery". 2003
-XVII International Congress of Endoscopic Surgery. 2008
Puerto Vallarta, Jalisco
-Mexican Association of Endoscopic Surgery
Hospital Ángeles Metropolitano, México, D. F.
-Select Topics of General Surgery and Gastroenterology. 2009
Department of Graduate Studies and Research
School of Medicine Torreón Coahuila, Mexico
-World Congress of Laparoscopic Surgery 2012
Puerto Vallarta, Jalisco
-9 International Congress B.E.S.T.  2012
Guadalajara Jalisco
-Endoscopic Surgery Conference 2012
Mazatlán, Sinaloa
-XV Congress of Obesity Surgery and Metabolic Diseases 2013
Brasilia, Brasil-Associate Professor "Hospital Clinical Integration" 2002-2003
UAC Medical School Torreon, Mexico
-Professor "Surgical Pathology" 2009-Present
Universidad del Valle de México
-Professor "Physiology" 2009-Present
Universidad del Valle de México
-Key speaker in various medical conferences in San Nicolas de los Garza, Monterrey, and Veracruz